By Reagan Russell
On July 28, Appalachian Voices partnered with the Appalachian Solar Finance Fund, Volt Energy Utility, and St. Paul's Lutheran Church to present a webinar specifically aimed at encouraging houses of worship to switch to solar power. .
I hosted the webinar as part of my work as an Appalachian Voices summer intern, which focused on an initiative to encourage communities of faith to go solar powered. I coordinated with a group of different stakeholders in the corporate and non-profit sectors.
This work is important to me because I believe that places of worship have the ability to play a central role in making our world more sustainable. They can be role models for their followers, inspiring us all to take better care of our planet.
Webinar speakers included Autumn Long, project manager for the Appalachian Solar Finance Fund; Gilbert Campbell, CEO of Volt Energy Utility; and Tony Setley, senior pastor of St. Paul's Lutheran Church in Morgantown, West Virginia. My internship with Appalachian Voices was sponsored by the Sharing The Power Foundation, which was established through the Volt Energy Utility Environmental Justice Power Purchase Agreement.
The webinar started with a brief introduction and short biographies, followed by an introduction to solar energy. To introduce attendees to the science behind solar, Long showed a Ted-Ed video titled "How Do Solar Panels Work?" by Richard Khomp. After the general explanation of solar energy, Long explained to the participants how solar energy is valued. This happens through a process known as net metering.
"Net metering policies allow solar panel owners to share excess electricity produced by their solar panels with the local electric distribution system, and require their utility to compensate them for this energy with a credit at the rate of 1:1 detail on their electric bill," Long said. . With net metering, solar panel owners can significantly reduce the amount of energy they draw from utility companies.
Unfortunately, net metering is not calculated the same way in all states, and the value of net metering credits can vary depending on where you live.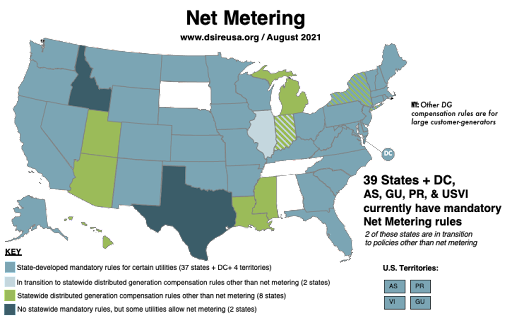 The Federal Investment Tax Credit is a financing mechanism available to owners of residential and commercial solar installations. However, this tax credit is only available to those who pay income taxes, which means that non-profit organizations like places of worship are not eligible for this benefit. This is where other financial options such as the Appalachian Solar Financing Fund and Power Purchase Agreements come in.
The Appalachian Solar Finance Fund, which is funded by a grant from the Appalachian Regional Commission's POWER program, was created to help entities that do not pay income tax receive the value of the tax credit. federal investment. The fund provides assistance in the form of grants and technical assistance to these organizations. To be eligible for the Appalachian Solar Financing Fund, organizations must be located in one of the coal-impacted counties in six central Appalachian states (listed on the Appalachian Solar Financing Fund website).
During the webinar, attendees also received a step-by-step description of how the Solar Financing Fund application process works.
Following Long's presentation, Campbell introduced our audience to the work that the company he co-founded, Volt Energy, has been doing with churches in the DC area. The first church project they did was on the roof of the Florida Avenue Baptist Church in Washington, DC in 2011.
As the first African-American church to be powered by solar energy, Florida Avenue Baptist Church quickly gained national attention. Articles have been written by publications such as The Washington Post, Essence Magazine and National Geographic on the significance of this occasion.
Gilbert said what sparked his interest in helping a historically African-American church go solar-powered was his belief in churches acting as centers of resilience for the communities they serve. Not only did his work include installing and managing the solar project, his team also helped teach the church about energy efficiency and sustainability. This education plan included teaching church members how to read utility bills effectively, as well as teaching church youth the science behind how sunlight is converted into energy. so the church can use it.
Setley, senior pastor of St. Paul's Lutheran Church in Morgantown, West Virginia, was the final speaker. Setley began by sharing the main reason his congregation made the decision to go solar this year: Because a theological focus for his church is "to care about God's creations." After researching green ministry, St. Paul's Lutheran Church started some initiatives to care for the Earth, including community cleanups and recycling. However, they wanted to do more.
Because the church was built in the mid-20th century, it would cost the church over six figures to pay for major energy efficiency upgrades. Solar was a more affordable way for the church to engage in political and environmental action. With help from the Appalachian Solar Finance Fund, they were able to do "something that would have a big payoff" in reducing their carbon footprint, as well as helping them save money in general, Setley said.
The webinar concluded with a brief Q&A segment, followed by closing remarks from the speakers. If you would like more information about the webinar or how your place of worship can go solar, visit solarfinancefund.org or contact Long at [email protected]!
Watch the webinar to learn more about how faith communities can go solar!