Dukinfield Baptist Church, on the corner of Oxford Road and Birch Lane, has closed for the last time after more than 140 years of worship.
With an increasingly aging congregation, attendance was reduced to a few faithful.
Church secretary Heather Hall said: 'At the end we were down to 11 and the decision was to close. It has nothing to do with money as some may have thought.
"We were financially solvent and the remaining funds were shared among various charities."
A farewell service of thanksgiving and remembrance was held earlier this month attended by representatives from other Christian churches and the wider community.
A formal closing statement was read by Reverend Jane Henderson, regional minister of the North West Baptist Association, who also gave a brief history of the church from 1881 to 1981.
Deacon Mark Woolstencroft reflected on the past four decades. The speech was delivered by the Reverend Jonny Hirst, the last church minister from Dukinfield who moved to Rawtenstall three years ago. Afternoon tea followed the service, with a chance to view the many old photographs on display and share their thoughts and memories.
Dukinfield Cllr Jackie Lane said the service was "emotional but lovely".
She said: "I have many happy memories of my involvement with the youth club in the early 70s and summer activities including the Gospel Bus.
"A huge thank you to Dukinfield Baptist Church for the support, care and work they have done over the years for the community. They will be missed by so many. »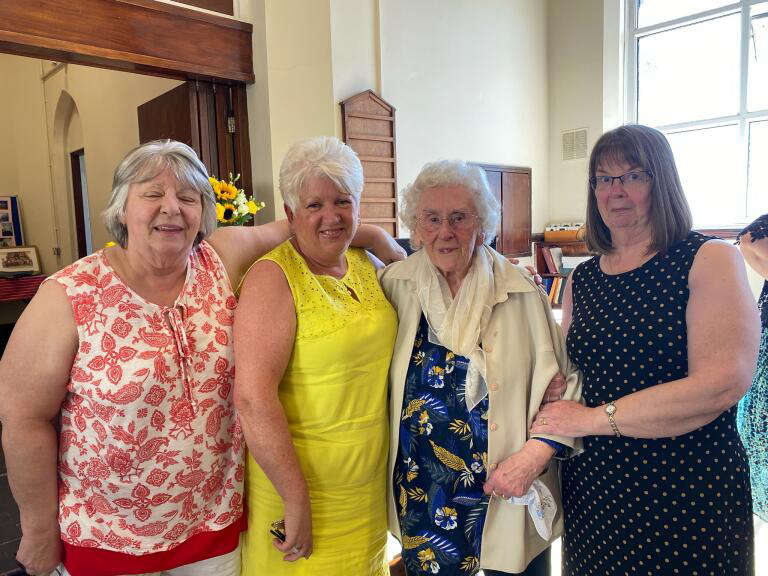 Farewell service: Oldest member Doreen Whitehead, 91, and her daughter Heather Hall with Elaine Heelis and Cllr Jackie Lane who attended the youth club disco
The familiar red-brick building housed several local organizations that had to move.
Busy Bees Nursery School had rented the upstairs room for about 30 years and will now be based at the Lodge Lane Scout Hut.
The Yew Tree Singers have moved their weekly rehearsal to Dukinfield Methodist Church on Wellington Parade.
The Slimming World group which met on Mondays moved to the Together Centre, Birch Lane.
One of the latest events was a Chocolate and Prosecco Easter Afternoon which raised £500 for the Women's Trust Fund for The Christie.
The Baptist Church first branched out from Stalybridge to Dukinfield in 1881, taking over a disused chapel on Town Lane.
In the late 1920s plans were underway to build a new church on Oxford Road which opened in June 1931.
After the centenary in 1981, the building was converted into a multipurpose hall bringing together services and social activities under one roof.
Its future is now in the hands of trustees The Baptist Union Incorporation and North West Baptist Association.
Find out more about the Tameside Reporter
Click here for more breaking news
Click here to read the latest edition of the journal online
Click here to find out where you can get a copy of the newspaper